Our Guide to the 2020 North Atlanta Home Show
Jan 30, 2020, 23:48 PM
As we get closer to The North Atlanta Show, which starts on Friday, February 7, now is a great time to review the show schedule so that you can make the most of the three days that the show is on. On our website you can find the many
Show Features
and a
full list of exhibitors
, but here are some tips for how to find what you're looking for.
1) Wear comfortable shoes
The North Atlanta Home Show features nearly 200 home improvement experts spread across two convention halls, so plan on lots of walking. Our great vendors will have so much on display, we know you will want to see it all so be comfortable. That being said, the Infinite Energy Center is handicap accessible with elevators and wheelchairs available. We also have seating areas inside and outside the exhibit hall so visitors can take a break and kick back.
2) Give yourself plenty of time
Give yourself enough time to make your way around the show. Visitors are encouraged to talk to the experts, touch and see products demonstrated, ask questions, take pictures and make appointments. The North Atlanta Home Show is a unique opportunity for you to comparison shop in real-time, you can check out similar products and service providers at once. So, you'll want to plan on having enough time to ask questions and make decisions.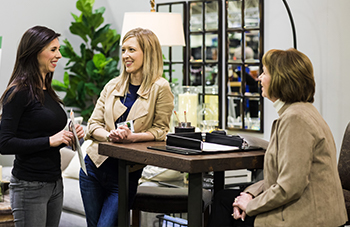 3) Bring your home improvement plans, photos, and ideas
The home improvement experts are at the show to answer your questions and offer advice.
Bring photos, measurements even swatches or blueprints so you can get accurate advice and a complete idea about the plans you're making. Also, many exhibitors offer special discounts if you make an appointment at the show. Others offer reduced product and service costs for Show attendees, so be sure to ask.
4) Comparison shop!
Nowhere else in North Georgia will you find such a large gathering of home improvement products, services, professionals and more than at the North Atlanta Home Show. These are the experts and service providers who work your neighborhoods in the north metro area. Whether you are in the market for outdoor living spaces, a kitchen or bathroom, exterior siding, interior painting or home décor you can talk one-on-one with several exhibitors in your interest area to compare products, availability and costs all on site.
5) Rapid fire answers for frequently-asked questions:
• There is ample paid parking available on site
• There are food and beverage concessions available inside the exhibit hall.
• There are products available for purchase at the Show. Most are small enough to be carried with you, but you may need to make arrangements with the exhibitor for larger items purchased.
• You may exit and re-enter the exhibit hall on the day of your visit, though a hand stamp is required for return admission.
• Children are welcome and under 12 years of age get FREE admission, but please keep them close at all times.